Power users of LandscapeHub know how much the platform allows them to streamline their plant acquisition processes and reclaim time during their days. If you're new to the platform or aren't quite sure you've harnessed all of its potential for your business, follow these tips for maximum gain with minimal work.
Find Your Dashboard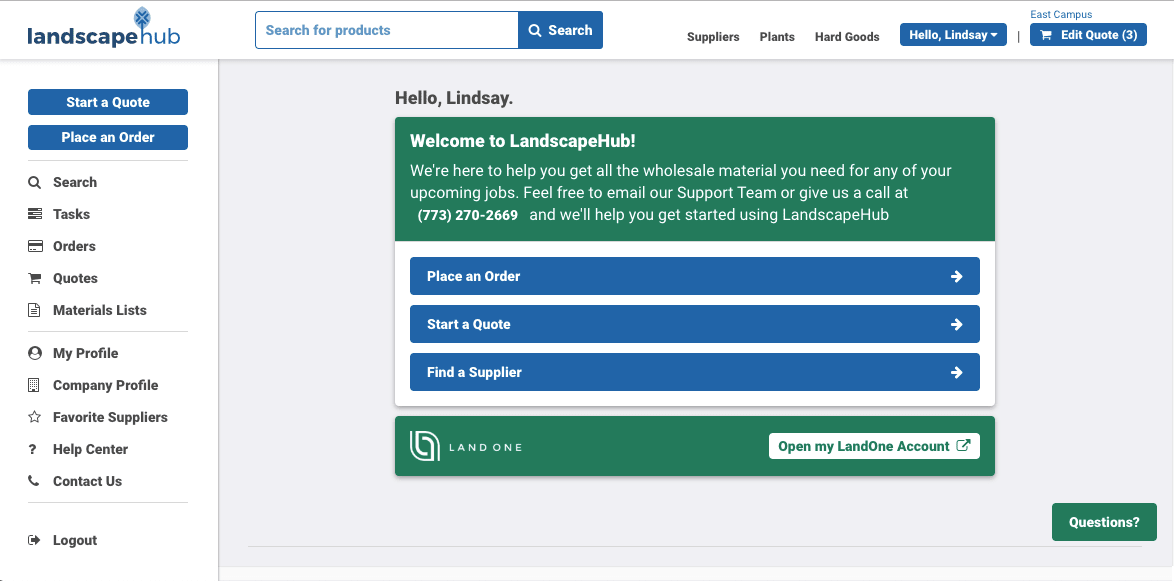 If you've been surfing around LandscapeHub without logging in, when you log in, you might not automatically be taken to your dashboard. To find it, click "Hello YOUR NAME" in the upper right or clicking the LandscapeHub logo in the upper left. From there you can do everything in LandscapeHub.
On the dashboard, you'll see some quick prompts on buttons in the middle of the screen such as "Place an Order," "Start a Quote," or "Find a Supplier." You may also be invited to engage in a free trial of the new LandOne takeoff service.
On your dashboard above the quick prompts, you'll also find the phone number to call for help with LandscapeHub services.
On the left side of your dashboard is a column with buttons to prompt you to start a quote and place an order, two of the main features of LandscapeHub. There are also extra quick links including:
Search
Tasks
Orders
Quotes
My Profile
Company Profile
Favorite Suppliers
Help Center
Contact Us
It really is your "key to the kingdom" for navigating LandscapeHub.
Create a Custom List of your Favorite Suppliers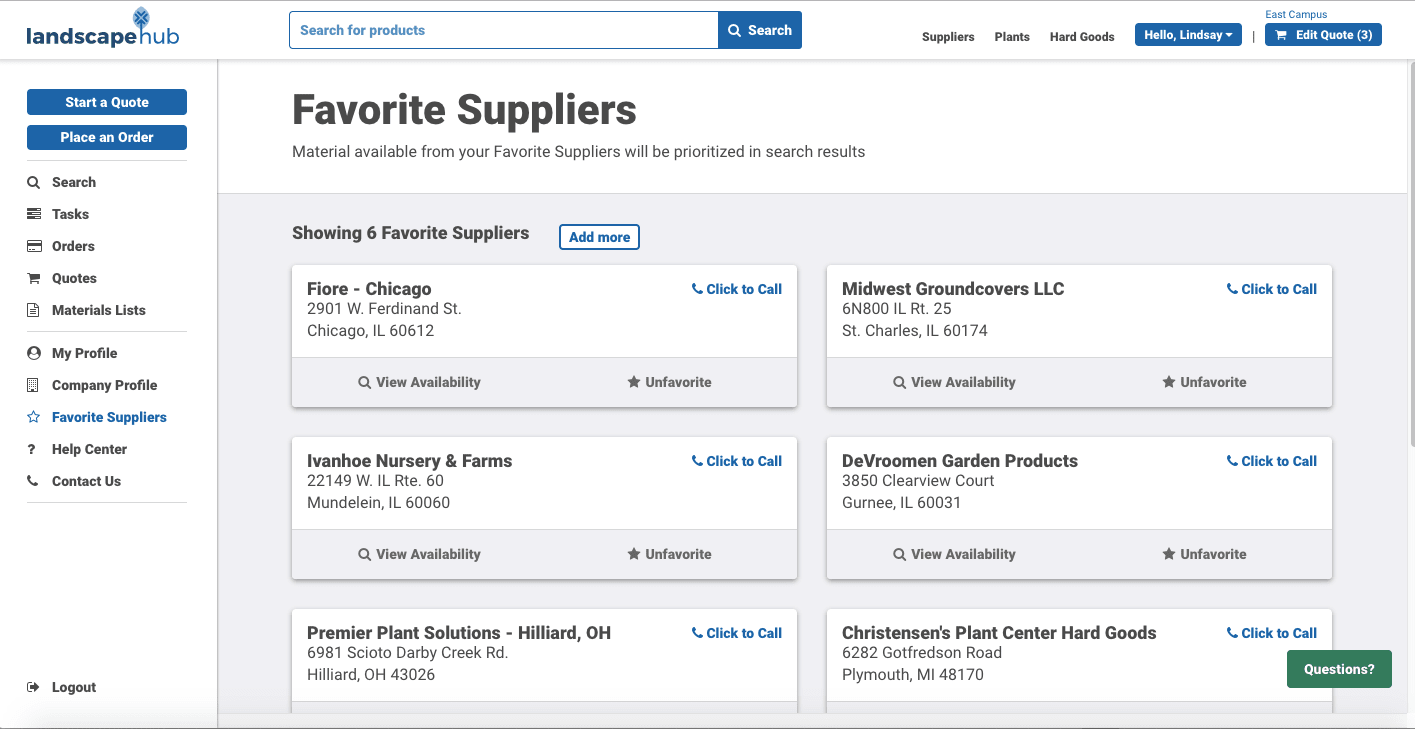 The great thing about LandscapeHub is that you can source most plants from a huge variety of suppliers. Type in Thuja 'Green Giant' and you'll get over 100 results. But if you're in Maryland, you don't need to see what Chicago suppliers have. (Usually.) Or you might consistently order from five or six suppliers to consolidate costs and that's all you want to see when you search for plants. Luckily there's a solution for that:  quickly put a stop to overwhelm by creating a list of your favorite suppliers.
The "Favorite Suppliers" link is in the left-hand column on the dashboard. If you haven't added any yet, you'll be prompted to search for your favorites. The system will automatically recommend suppliers near your zip code. You may also search by name. Then just click the star icon with the word "favorite" next to it and the suppliers will be added to your list.  
Once you're ready to build a quote, you can click "favorite suppliers" on the dashboard and then select "view availability" and go from there. OR you can search for a plant and filter suppliers by type, selecting "favorite suppliers" and see what your regulars have.
Use Filters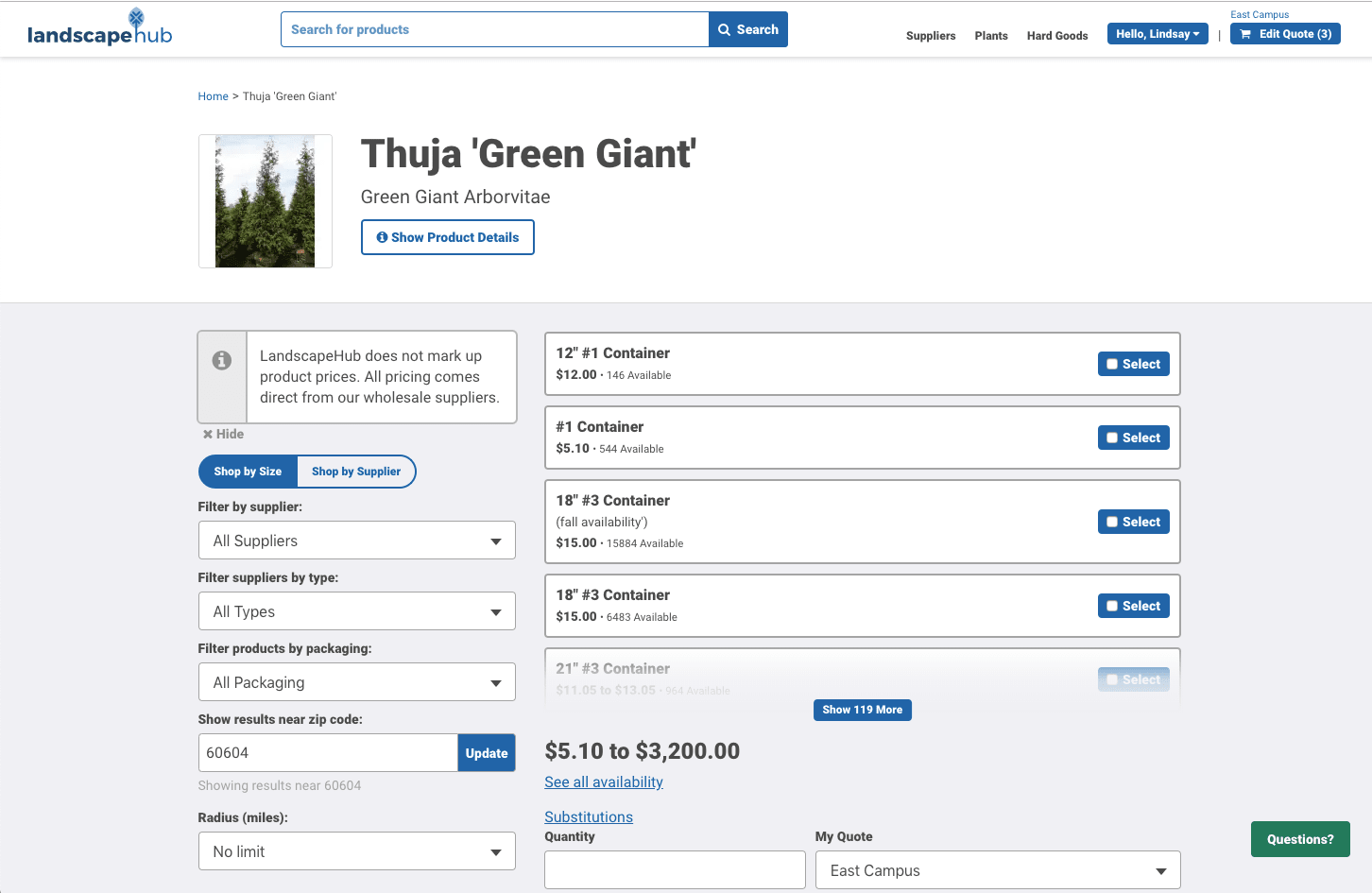 There are several filtering options on LandscapeHub to help you narrow what you're viewing at any given time so that you're not overwhelmed by information.
You can filter product search results by size or supplier and then by the following criteria:
Supplier
Type
Packaging
Zip code (Maybe the job site is actually closer to a different zip code. You can refine your search with this tool.)
Radius
Filter quotes by status:
And search within quotes.
Filter orders by multiple criteria:
Order State (Status)
All
None
Submitted to LandscapeHub
Sent to Supplier
Confirmed by Supplier
Delivery Scheduled
Fulfilled
Awaiting Invoice
Payment Requested from LandscapeHub
Under Review
Awaiting LandscapeHub
Confirmation
Canceled
Fulfillment Type
Order Owner
Order Type
This order filtering and tracking are important because it helps you manage multiple orders with one central system. The order state filter is like tracking a UPS package. You can see exactly where everything is in the confirmation process. From there, you can export lists of orders. (Hit the export button to download.)
Instead of juggling multiple catalogs, job tracking, estimating, and fulfillment programs and papers, you have it all on your orders and quotes tabs in LandscapeHub.
Submit Orders Online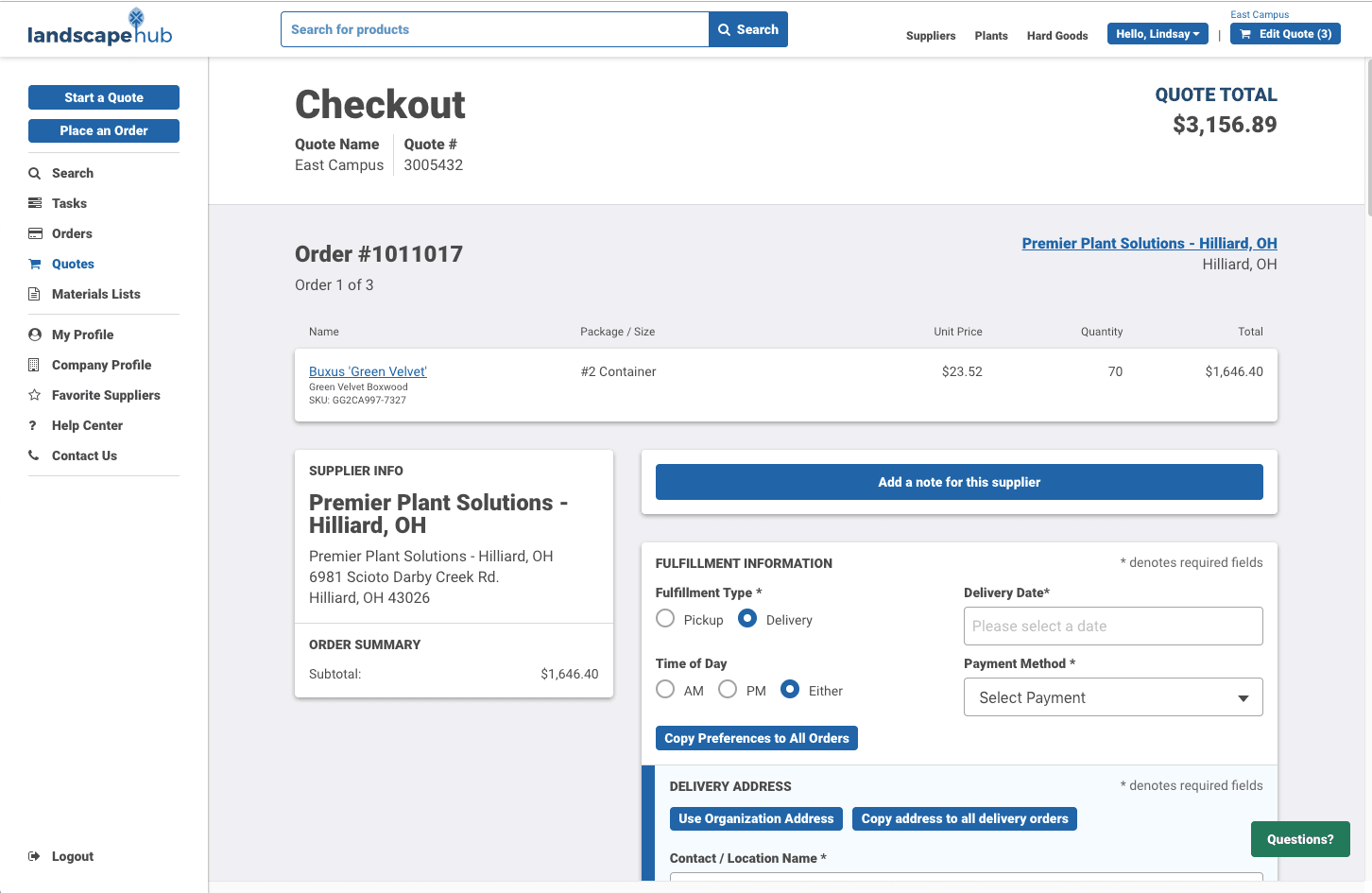 LandscapeHub isn't just a searching software. It is a purchasing tool! If you haven't used it that way, you're definitely missing out. LandscapeHub is a one-stop-shop for ordering and tracking products. You can build your list, find the material, generate a quote, order the materials, get everything tagged, get it confirmed, get it delivered, and track all it from your desk in one program. But, you can only do that if you actually order through LandscapeHub.
Here's what happens when you order:
First, fill up your cart with the materials you want and when you want them. (You can also indicate that you'll pick them up.)
Then submit your order. Immediately after LandscapeHub receives your order, they will send it to vendors and work on a freight quote. Within hours you will receive confirmation of the order and the lowest price on shipping. (Because of our extensive network, LandscapeHub can often beat individual suppliers' shipping quotes.)  
If necessary, LandscapeHub will follow up with any additional information, including suggestions from vendors, questions about shipping quotes, and photos (if requested in the order).
Pay Orders Online
With LandscapeHub you receive generous terms and you can pay online. Simply navigate to the Quotes tab in the left-hand column and click "Submit your online payment." No more cutting checks to six different vendors. Even if your order used six different vendors, you can pay for the order in one spot at one time.
Track Orders Online
This is a bit of a recap of the filtering capabilities, but it's so handy it's worth mentioning twice. Take advantage of the order filters to keep track of where different orders are in the system — whether the order has been fulfilled, is awaiting invoice, and more. This is your "UPS-style" tracking system.
Ask about White Glove Service
If you're a frequent purchaser or are looking to run larger orders for LandscapeHub and need extra help, you might be able to take advantage of LandscapeHub's White Glove Service. Read more about that service here.
If you've been wondering how to get started, this list is a great primer. Have questions? Contact us.